Continuing the success of the Ho Chi Minh City Export Furniture Fair 2023 (HawaExpo 2023), HawaExpo 2024 is currently underway and completing preparations with substantial investments to support business and elevate the stature of the Vietnam Export Furniture Fair to match its national position in the international market.
Under the patronage of the Ministry of Agriculture and Rural Development, the Ministry of Industry and Trade, and the professional guidance and coordination of the Ho Chi Minh City Department of Industry and Trade, HawaExpo is organized by VIFOREST FAIR company, consisting of five associations: Viforest, HAWA, BIFA, DOWA, and FPA Binh Dinh. The Fair is operated directly by the Handicraft and Wood Industry Association in Ho Chi Minh City – HAWA.
In addition to the event taking place at the Saigon Exhibition and Convention Center – SECC from March 6th to 9th, 2024, featuring over 2,000 booths, HawaExpo 2024 will expand its presence to the World Trade Center Expo – Binh Duong from March 7th to 9th, 2024, offering an additional 700 booths. With a combined capacity of nearly 3,000 booths, twice the size compared to 2023, the trade fair will effectively cater to the exhibition needs of all businesses while significantly attracting international buyers through a well-executed marketing strategy, backed by a tripled budget compared to previous years.

HawaExpo 2024 will be the largest and only Export Furniture Fair in Vietnam, organized and linked to the March furniture trade shows of ASEAN countries and China. Hence, the Organizer is making efforts in the preparations and gathering booth registration demands from all association members, as well as businesses participating in VIFAEXPO in previous years, in order to arrange the booth positions most effectively. As of now, the Organizer has received registrations from over 250 businesses, totaling nearly 1800 booths.
With the aim of promoting industry development, HawaExpo 2024 will focus on the following target groups:
Industry: Furniture & Furnishing, Home Accessories, Gift & Handicraft. Additionally, the fair will allocate some booths to suppliers of materials, accessories, and services to promote the diversity and sustainability of the industry supply chain.
Business nature: Manufacturer, Trader in Vietnam (Furniture made in Vietnam), Supplier and Service.
The announcement of detailed information and booth sales for HawaExpo 2024 is as follows:
Week of June 20th– 26th, 2023: Allocating booth location for re-registered HawaExpo 2023 exhibitors.
From June 30th, 2023 onwards: Allocating booth locations for VIFA exhibitors from previous years; Newly registered business.
To ensure effective organization, VIFOREST FAIR Company would like to inform and request the associations to collaborate in promoting HawaExpo 2024 to all members and disseminate the information on the media channels of the Associations.
For businesses interested in participating in booths at HawaExpo 2024, please register at the following link to allocate booths and prepare for the most effective and successful fair.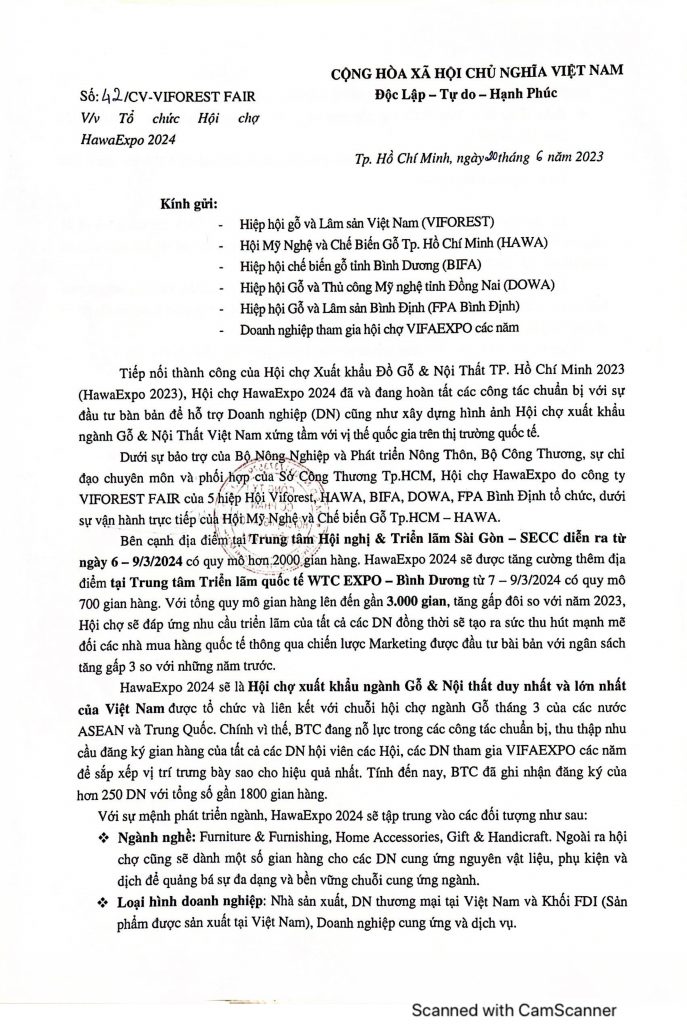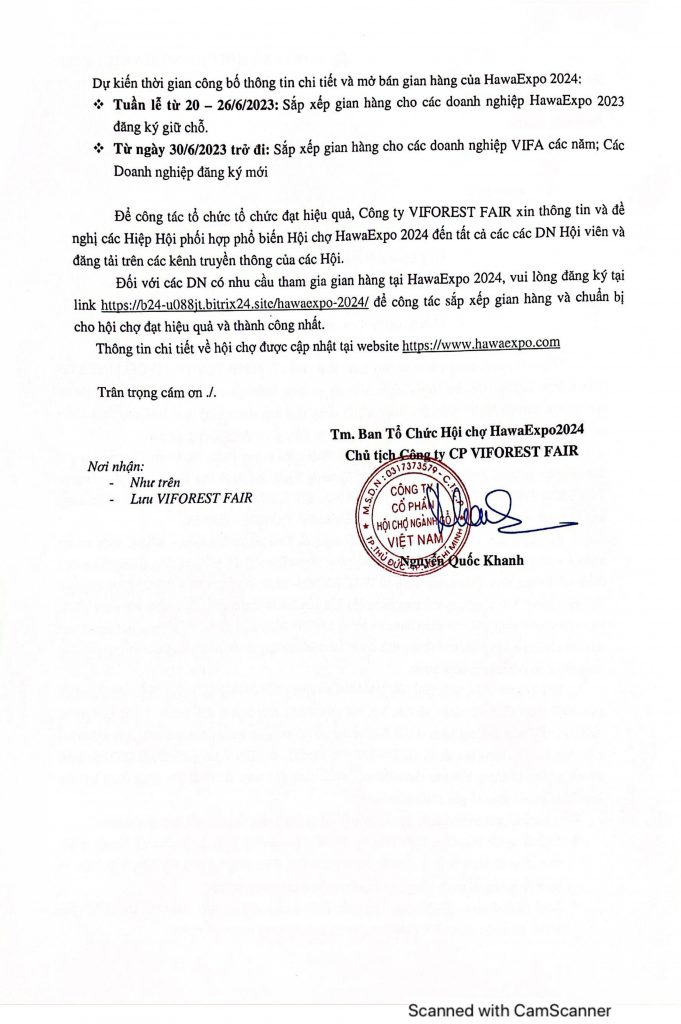 Detailed information about the fair is updated on the website: https://www.hawaexpo.com.
For further information, please contact our hotline (+84) 866 627 710.